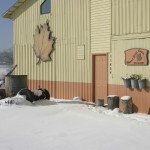 See our video of the first boil of 2013
Visit northwestern Pennsylvania's only Maple Museum in Edinboro, Pennsylvania! Here you'll glimpse the art and science of making pure maple syrup, a bit of the history of this delicious natural product and the fun that's part of the entire process.
The Hurry Hill Farm Maple Museum is proud to be home to the 1956 Newbery Medal awarded to Virginia Sorensen for her acclaimed children's book, Miracles on Maple Hill. The story is set in and around the Cambridge Springs area. In addition, the Museum has delightful displays of maple sugaring antiques, natural history exhibits, interactive displays and videos, as well as children's activities.
Whether young or old, you're sure to learn something new.  We welcome families, groups and bus tours at the Museum and at annual events such as the Northwest Pennsylvania Maple Taste & Tour or other special programming during the year.